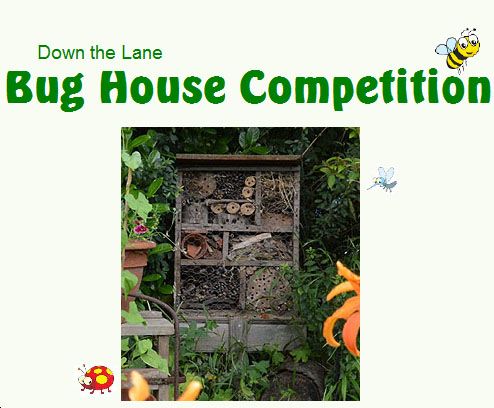 A topical competition to run us through the Summer Holidays
The idea
Build your own bug house using as much recycled material you can. Just google image search and you'll get loads of ideas.

They can be small, big, on walls, amidst the garden, wherever you feel is best for your home.

Hopefully this may also be a good summer holiday project and allow any kids or grandkids in on it !!
Bug Houses can be made to look both artistic and attractive in almost any garden.

When you're ready, post your entry photograph HERE (this will require you using photobucket - see post below if you're not sure how)
Please give your entry a short title - this will help when voting takes place, no comments please, just title.

Only one photo is permitted
Closing Date Friday 29th. August 2359hrs.
Voting will then commence from Sunday 31st. August for 10 days. You will vote for your two favourite entries.
The Prizes
Although this will probably mean me approaching the IMF for a Loan, they are as follows..
Ist. Prize - £25 to spend at Amazon

2nd. Prize - £15 to spend at Omlet (they don't just do Chickens!)

3rd. Prize - £10 to spend at Amazon
Who can Enter
All Down the Lane Forum and Facebook Members, but please note that due to web site software capabilities you must be a registered Member on Forum so click the appropriate 'register' link at the top of this page.
Good luck, Richard
You can read about mine by clicking..http://www.downthelane.net/garden-wildlife/building-a-bug-house.php
'If we and the rest of the back-boned animals were to disappear overnight, the rest of the world would get on pretty well. But if the invertebrates were to disappear, the world's ecosystems would collapse.' Sir David Attenborough