I've been wanting to do a full torso for some time and finally got up the nerve over the last couple of days. These 2 ladies are about 3" tall. The first one I did is the one on the base and while I was very pleased with her there were a few things wrong, so I did her sister as well. I decided her sister should be a little more anatomically correct so I carved her some nipples and a navel, which resulted in me saying "Do you know how hard it is to sand around nipples?" - my best quote ever I think!
Anyway, what do you think?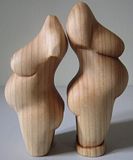 And this is my 3rd figure carving, and since I'm such an old hand at it now (LOL yeah right) I decided to not only do a much more difficult pose this time but also make it from the tiny scrap of wood I had left over from the Mother figures. So yeah, this was 'fun' to make...
Actually, considering she's only 1 3/4" high, she went really well. I am frankly amazed I managed to get her looking anywhere near as good as this :) There are flaws, bits I'd do differently if I was mentally abberant enough to try tiny figure carving again, but all in all I'm really pleased with her. Looking forward to getting some more wood so I can try some more poses.