Hello, rainy days mean sewing. My latest bag creation. I was given a very large piece of denim fabric left over from a re upholster job. This is coming in very handy for making bags.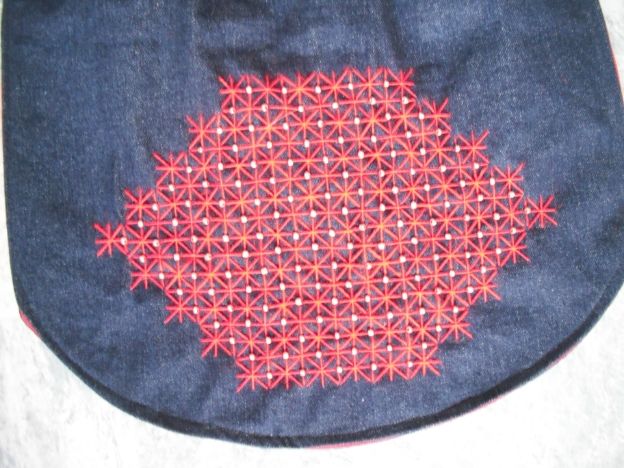 It is fully lined in red cotton, from a bedsheet I bought for £1 from Age UK charity shop. It has a pocket inside for a phone or purse. The handles are long enough to hook over one shoulder, people seem to like that style. It is strong enough and big enough to carry library books, or to take lunch to work and pick up shopping on the way home.
If anyone wants to have a go at the crisscross pattern this is how I did it. Use a wire mesh tray as a template and sew crosses within the squares to get them neat and tidy. You can use the same technique on a smaller scale using the mesh bags you buy fruit in. Stretch it over the fabric and hold it in place with an embroidery hoop, or pegs, stitch within the squares. I added the silver beads after, bought in The Works, a packet of mixed beads for £1.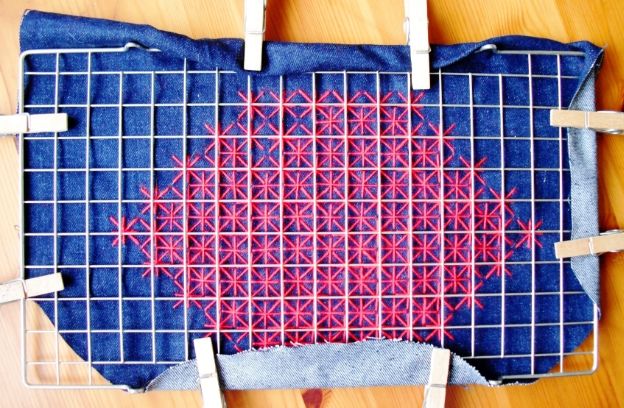 I have found the easiest way to line a bag is to make the two sides separately. Sew the lining to the outer with right sides facing leaving the top open, then turn it the right way round. Then add the handles and machine across the top. Join the two sides together, right sides out, and machine all the way around.
Have fun.
Ilona