I have a piece of fabric, 2ft x 2ft, I got it from the Scrapstore a couple of years ago, it's a William Morris design. The back of it is quite interesting. I decided to make a picture out of it, by sewing other fabrics, beads, sequins, vinyl, and other bits and bobs onto it. It's taken about six weeks to do. The idea I had in mind for it was a secret place in a forest. It's a fantasy picture.
This large lily flower is on the other side, I expanded it by adding pink flowers, metalic flowers cut from an aluminium drinks can and an empty tube of tomato puree, (they are gold on the inside), and outlined it in silver cord.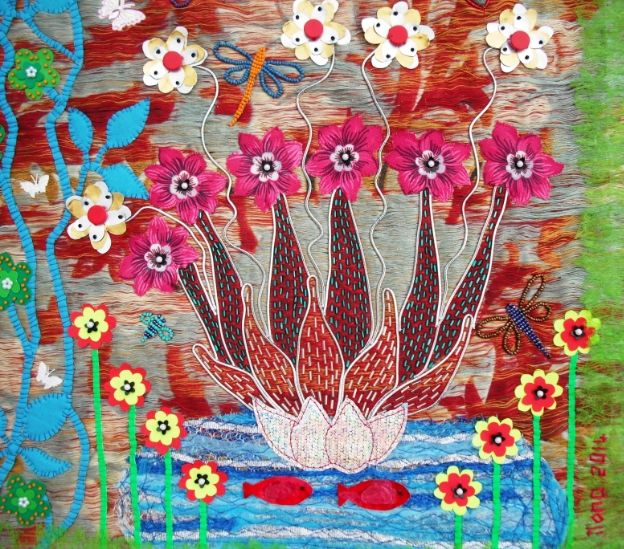 The grey flower is cut from another piece of fabric. I sealed the edge with PVA glue and added sequins, beads, and red cord.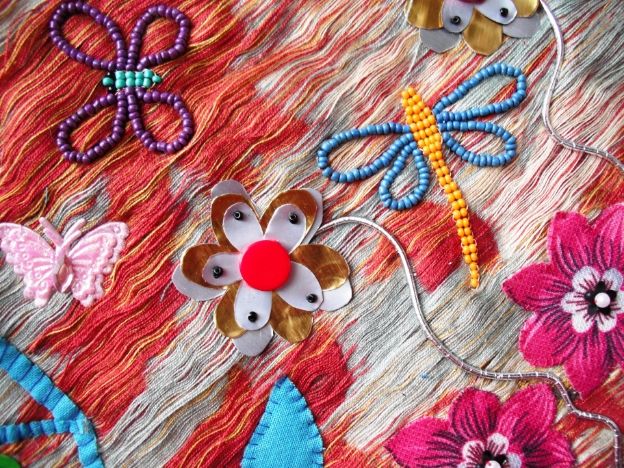 The turquoise stems and leaves are made from an ironing board cover, and the green flowers are vinyl.
Just about all the materials I already had, except some of the beads I bought were necklaces from car boot sales. I am now making a frame for it out of recycled timber. I have a piece of glass from an old greenhouse, and a piece of hardboard for the back.
I enjoyed doing it. The pond gave me a bit of bother, I pictured something blue and shimmery. Tried fabric, and fused plastic, but found that blue and white mesh bags with silver ribbon, run over with the sewing machine lots of times, gave me the effect I wanted. The fish are made out of old credit cards, painted with nail varnish.
Might do another one.
Ilona