I could have put this in a number of the forum categories but I have put it here because I believe this is a system that is over looked. It could be done throughout the world and is very cheap and simple to set up. I am not the first person to do this but in my opinion not enough people are using it to it full potential.
So what is it? Animal dung, manure call it what you will but in the right conditions it can generate upto 70 degrees celsius. Even a normal household compost heap generates a suprising amount of heat in the right conditions. I am sure a hose coiled in one of those dalek style composters would generate at least a couple of buckets of hot water. Enough to wash the car maybe!
At the small holding there is almost an unlimited supply of manure many of the other small holder have horses and as most of you will know I have pigs as well as the chickens.
The first picture shows the muck heap nearest the pig shed, I dug it out to make way for the water tank (water but).
The second picture shows the but in place. I replaced a decent layer of manure and the started to coil the pipe around the heap. I have used alcathene water pipe but a hose pipe would work so long as it doesn't crush or squash under the weight of the manure. I used around 70 feet of pipe but the more pipe in the heap the better.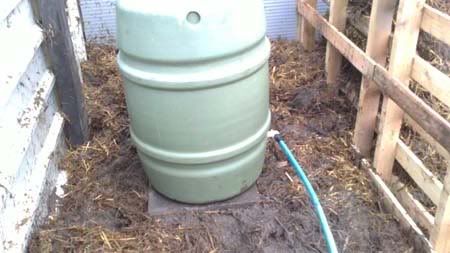 I then started to build the layers and the coils until the pipe is distributed throughout the heap.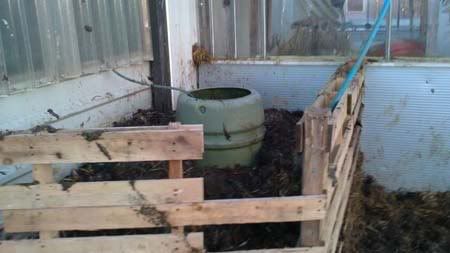 I will be putting the end of the pipe through the wall into the shed and then putting a tap on it. Once the heap is full to the level of the pallets I will put a lid on the but and cover the whole heap with insulation pannels.
I will let you know in a few days what temperature the water from the tap is.
Oh and for my next project I hope to get free electricity from manure.
Al