Today, between rather a lot, I managed to complete the multi-million pound refurb of the Office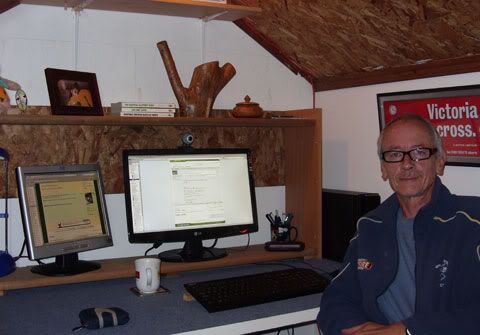 The finishing touches have been.......
New Work Top
- old door
Work Top Covering
- carpet remnant found in skip outside Carpet Store
Shelving
- (part old PC base and Shelving found in skip covered in birds doings)
Below
Side Cabinet
- Mum's old Kitchen Wall Unit turned upside down, top again from Leo's chucked out PC Base Unit.
Filing Trays
- as per Chicken Dropping trays, Bread Baskets, but these are clean(ish)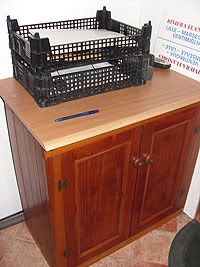 Unseen
Heater
- found abandoned outside Ashford Town FC three seasons back.
Paid for = PC and Accessories of course, Office Chair (I'm out here a long time), Vinyl Flooring bartered down from £15 to £5, the light which is £2.49 job from Wilko's and a VERY loud Burglar Alarm plus other 'little secrets' !
AND.....do you know, I'm quite proud of it !!
Richard