Hi
Luckily, after I noticed this the first time I took all the feed out and cut glass the size of the inner base.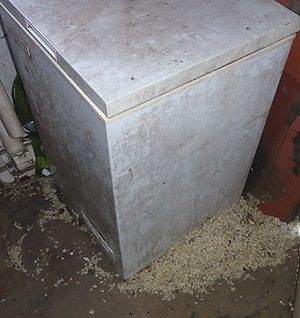 It's RATS !
They get underneath and simply start chewing their way up (mainly polyurethane chunks) . In fact, the first time, they were nesting there.
Chest Freezers are ideal for storing Chicken Feed, they have good sealed tops and hold about a bag and a half of 20kg Poultry Mixes.
I'm sure I'm teaching you to suck eggs (not a pun!) but should you use an old Freezer,
never remove the motor
, keep it exactly as is.
Richard