It's amazing what you can get for £24.00 here in Thailand. Yesterday, Wendy and I went to one of the numerous garden centres local to us here on Phuket. Unlike UK where garden centres tend to be very big and are run by large companies, these are much smaller affairs, much more like plant nurseries I would say.
I was just wanting a 'lipstick palm' (Cyrtostachys Renda) but you know what it's like when you pop into these places, you end up buying twice (or in the case five times) as much as you planned. Actually, as I recall, it was Wendy, wandering around saying, "oh that's beautiful", who end up making the selections. But as each plant only cost an average of 250 BHT (approx. £6.00) each, I thought I had a few bargins, compared with UK at least.
Here are a few pictures (actual ones I took this morning, so may be not the greatest)
1. Jasmine Bush
This is a small tree really and is already 5 ft tall. I was persuaded by my wife to buy this to plant under our porch as its flowers have the most exquisite perfume.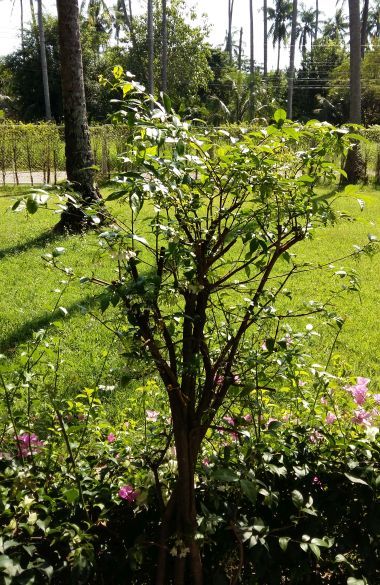 2. Bleeding Glory-Bower
It looks a it like a fushia to me but I gather it isn't related. Small white flowers with a brilliant red center.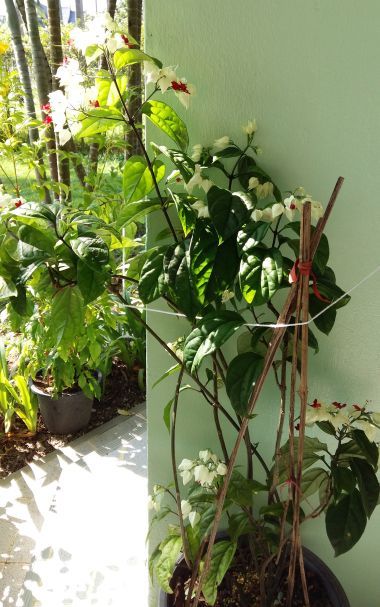 3. Cyananthus Flavus
A large shrub with bold yellow flowers.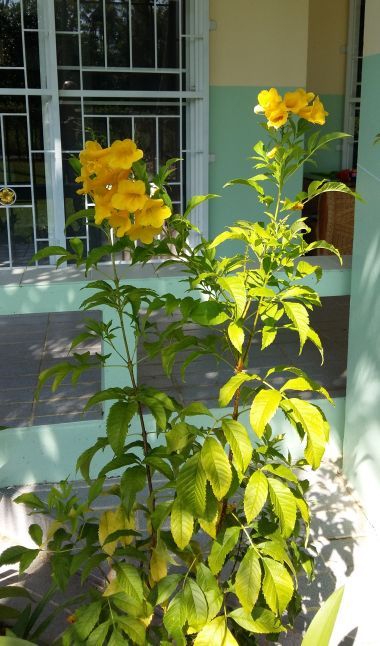 4. Cordyline Fruticosa Rubra
This, I am told, does better in the shade. Beautiful red leaves. We do see this in UK but as an indoor plant.
5. Cyrtostachys Renda
Known as the 'lipstick palm' or 'red sealing wax palm'. This one is just under 5 ft tall but they can grow up to 50 ft tall so a lot room for expansion. You can't really see it in my picture, but it has bright red stems and so makes an excellent ornamental palm in a tropical garden.