We have a number of banana trees in our garden, all of which I suspect are passed their best.
As you are probably aware, many species of banana are sterile hybrids. For example, the bananas we get in UK are all of the Cavendish variety, named after William Cavendish, 6th Duke of Devonshire and propagated by his head gardener in the glass houses of Chatsworth House. It would seem that once a stem (they are not really trees - they are herbaceous flowering plant) has flowered and borne fruit, they won't fruit again. What they do though is throw up offshoots, called banana 'pups' You cut these off and replant and you have a new banana plant, that hopefully will flower and bear fruit
I have already replanted a few 'pups' and will keep track of their development with this thread.
Here are the first few pictures:
The current, rather past it, banana trees
A 'pup' still attached to its parent plant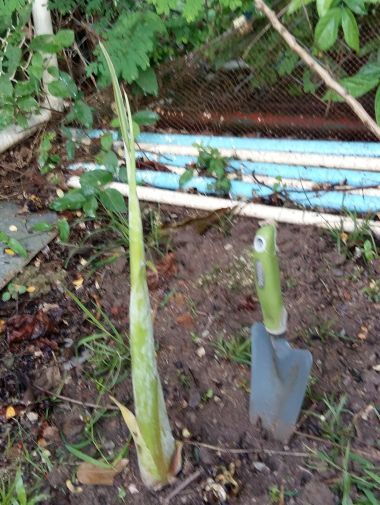 This is the 'pup' whose progress we'll follow over the next few months. The trowel gives an idea of big it is.