I joined DTL when I was considering to have some chickens and it's only taken 7 years to get there
Some of the reasons ranged from not having the time (full time work, 2 allotment plots, garden, a dog), not knowing how to go about building a coop + run, where to find local stockists for feed and bedding and the costs involved ... but a lot of things have changed and after losing my lovely & faithful old dog just after Easter, I can't take on another pet for one reason or other so I revisited the chicken idea.
Like Danny deciding on which type of coop and set up, I gave it a lot of thought too. The flat packed coops that have been promoted looked like a quick and easy solution, but I took on board the advice from other DTL members and avoided the felt roof ones and the ones with small runs, and although I would have liked to have got the chickens straight away, decided to wait until I had built the extended run to give them more room - a decision I'm glad I took now that I've seen how chickens behave. Keeping backyard/garden chickens seems to have come a long way since I first thought about getting chickens and it is a lot easier to get hold of things that I need - there is now an online shop set up in Nottingham where prices are very competitive, and I can go and collect bulky items and avoid expensive delivery costs. So, no excuses now ...
I bought the coop and run in early August and when it arrived, couldn't wait to put it together straight away. First, clear the messy area I was going to use,
and then put down some breeze blocks to raise the whole thing off the ground so that I wasn't bending down so much.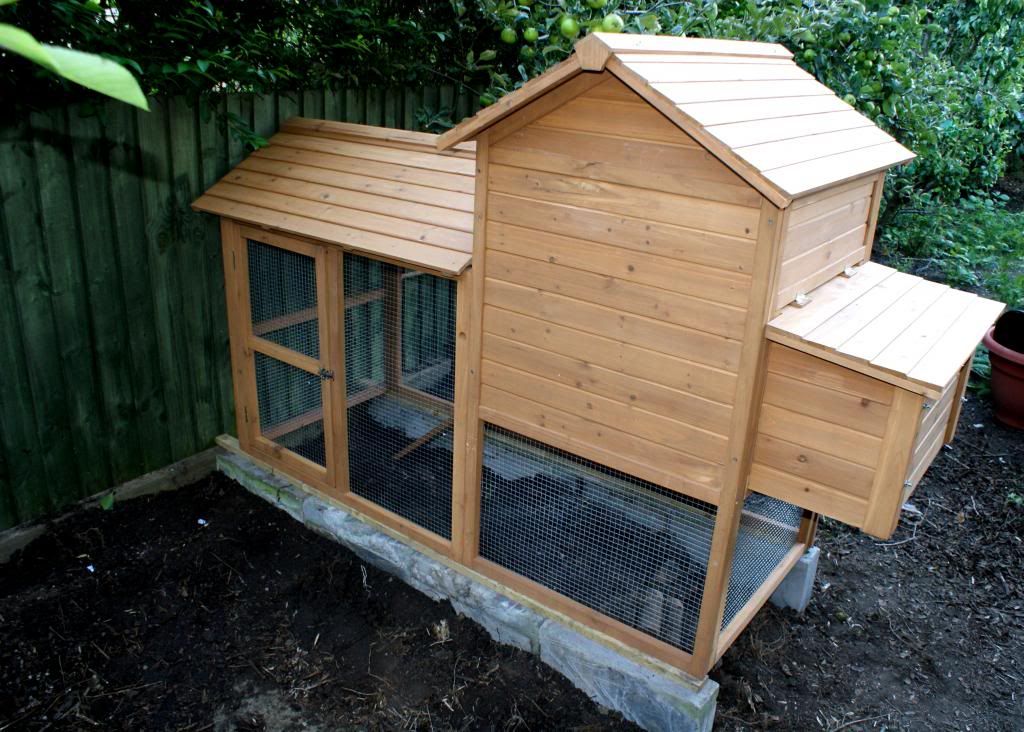 I had hoped it didn't matter which way the panels were put up because I liked the idea of getting access into the coop from outside the extended run, but apparently it did when the metal arm for the sliding door was right across the door to the coop, and inside the perch was also right across the door -
, a bit of an assault course .... okay, that doesn't work. Never mind, I was going to dismantle it anyway so that I could paint it - reading about red mite infestations, I liked the idea of filling in the cracks, joints and knot holes with filler and then several coats of gloss paint so that the finish inside was smooth and easier to clean. I also gave the outside several coats of weather proofing paint as there was no doubt the quality did look like it would quickly deteriorate even though I'd already decided to build it inside a covered roof. Now I just needed to get all the other bits and pieces together and wait until the August bank holiday when I take 3 weeks annual leave to get on with building the run.
I recycled a lot of materials especially wood that I had from the allotment. I had also acquired a heavy duty pallet, some wire mesh and a few corrugated roofing panels, and I had plenty of screws and the tools to do the job so just needed some more mesh, hinges and bolt for a gate ... work begins: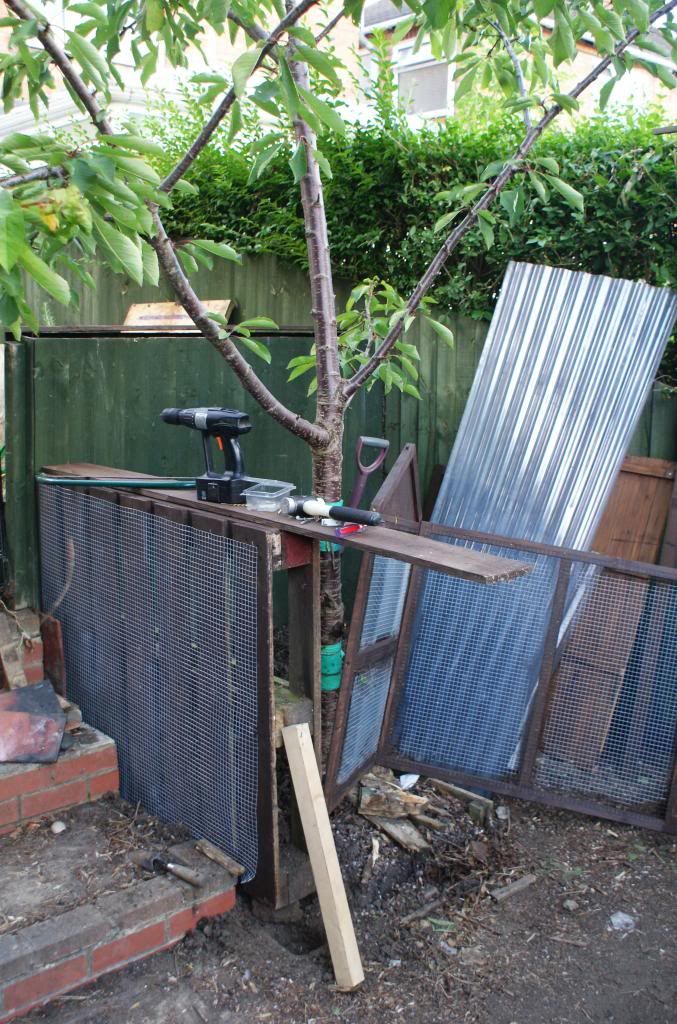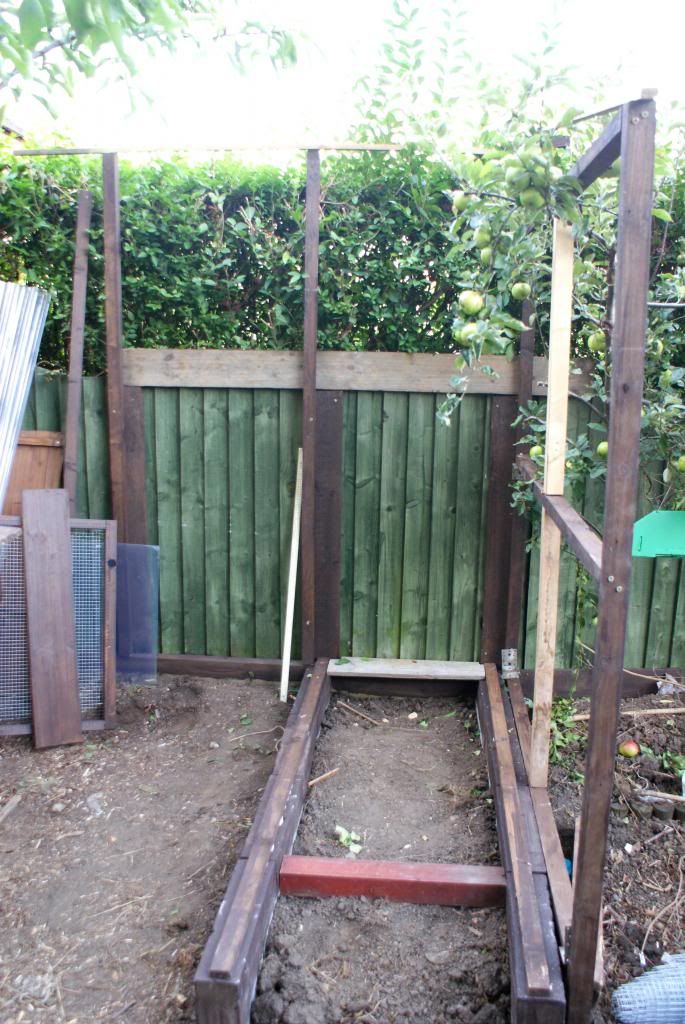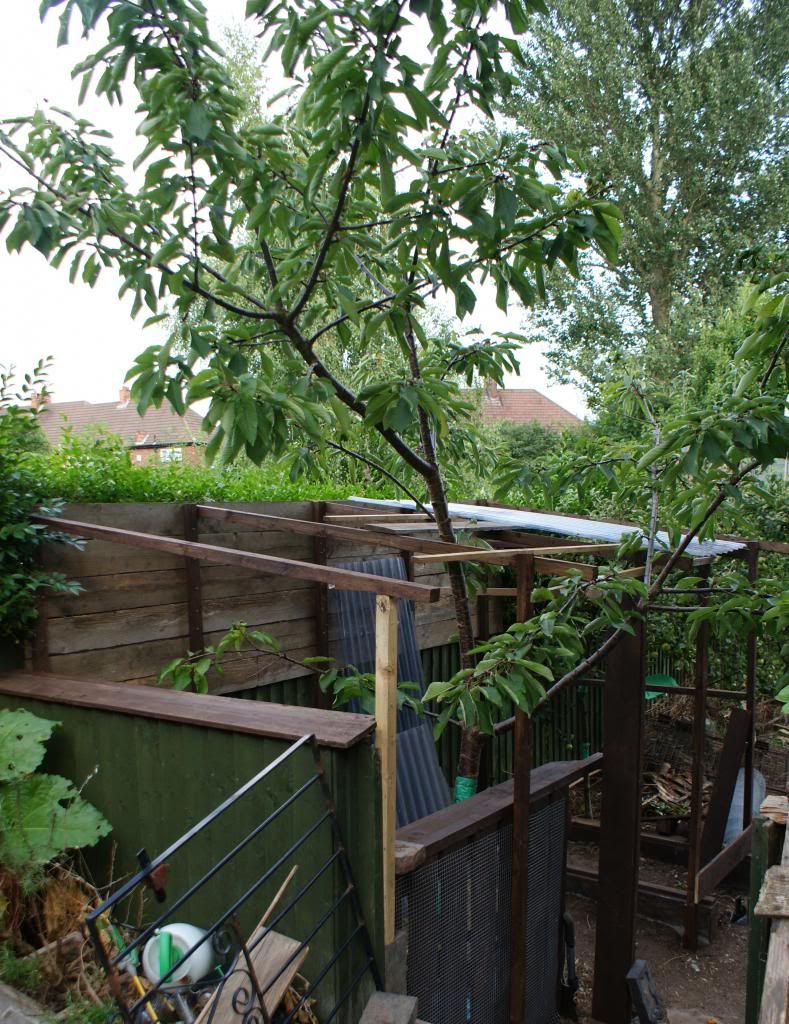 Painting the inside white seemed to make such a difference and showed a massive improvement. Between the 2 rows of breeze blocks I packed a load of house bricks in the base and filled with ballast gravel over which I was going to fill with sharp sand and wood chips: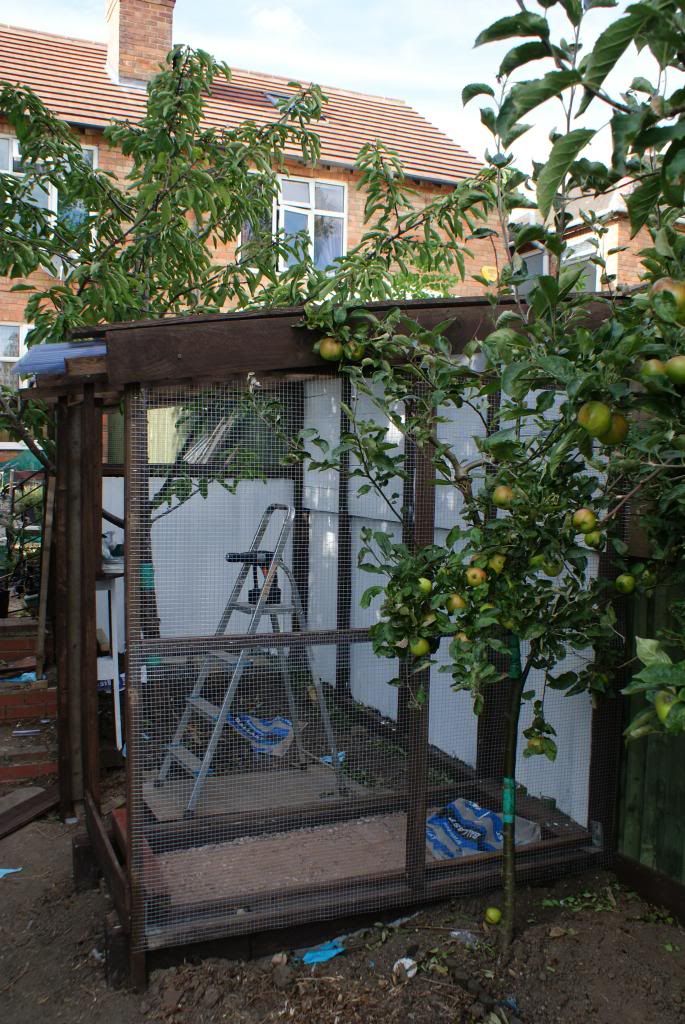 Next, boxing in the cherry tree and putting the roof on was a challenge but surprisingly easier than I thought:
And then the coop ... despite careful measuring, I still managed to get it wrong and had to cut the roof pieces on the coop and run to fit it together but finally after 2 weeks (I thought it was only going to take a week at the most), I was ready to go and get my chickens and any other smaller details could be done afterwards, such as painting and laying more paving under the nest box area to prevent foxes from digging underneath (even though there was a layer of bricks inside the run):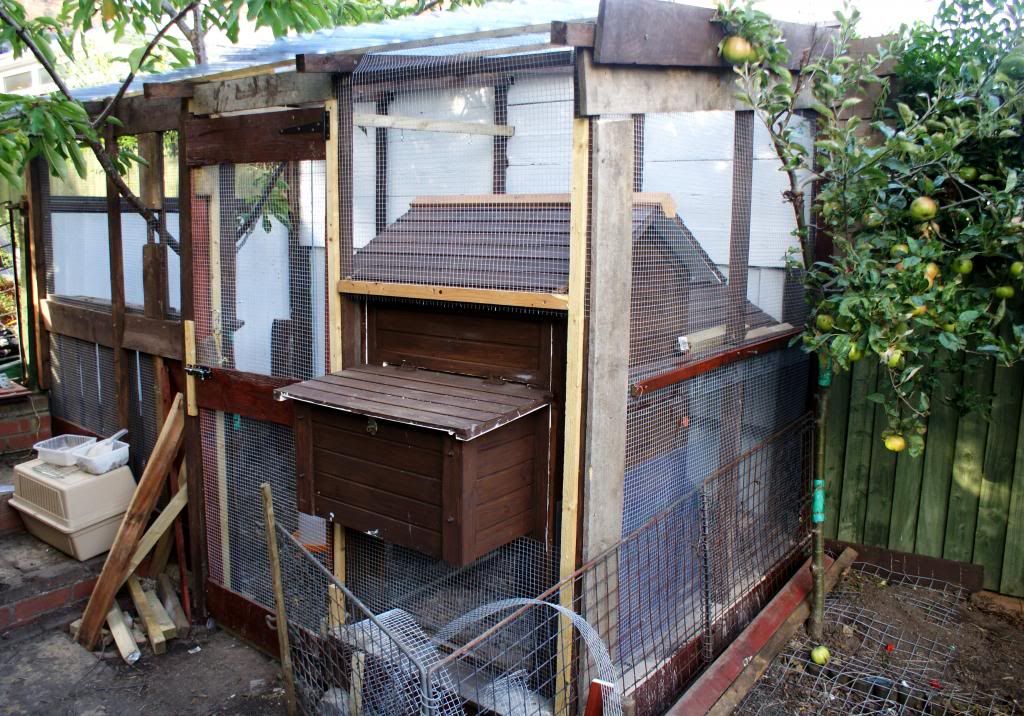 I had already decided on Point-of-Lay hybrids and had been perusing several sites and opted to go to a poultry farm near Swadlincote just outside Burton on Trent. The next decision was which ones! So many to choose from! But I opted for a Gold Star Ranger:
An Amber Star: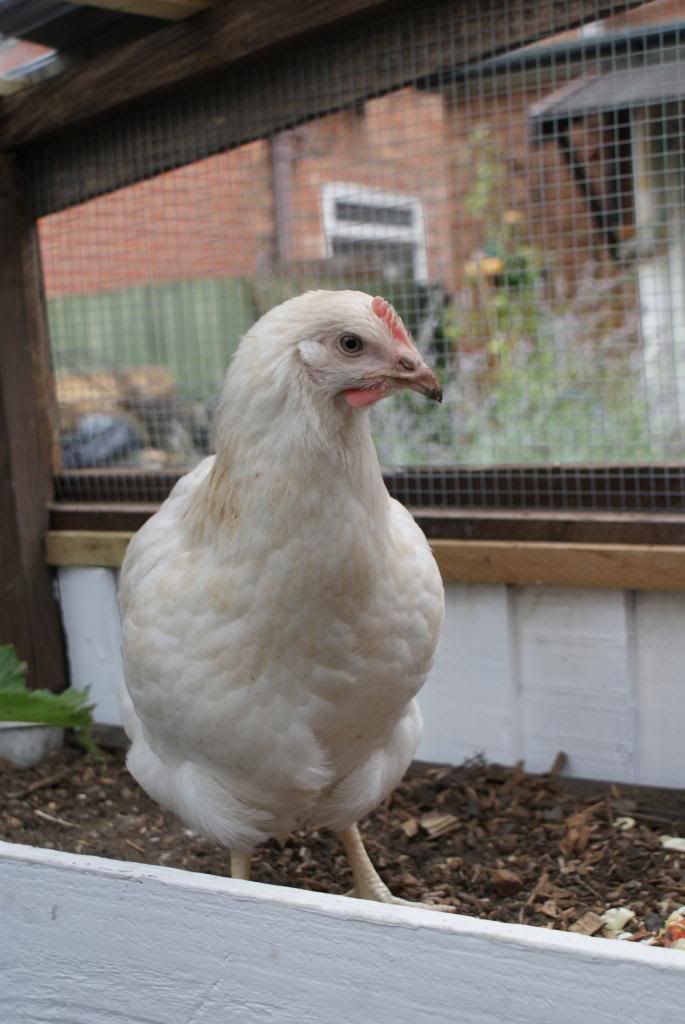 A Black Star (I chose this one that had a lot more yellow):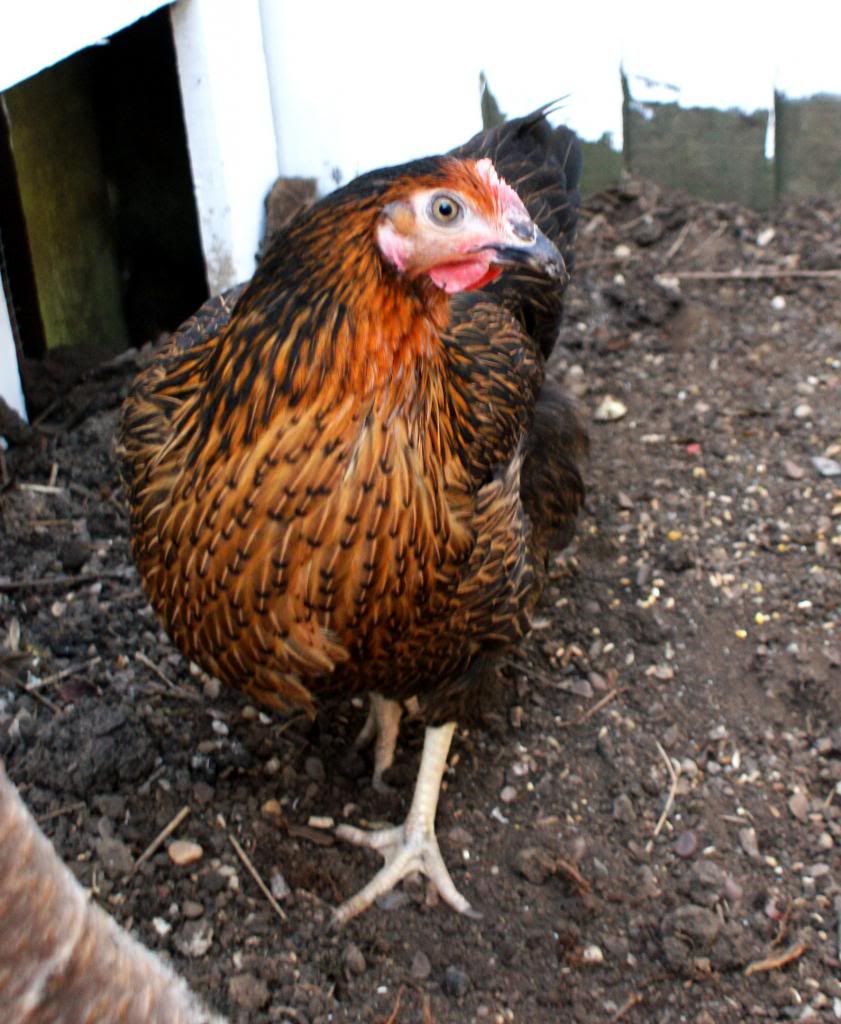 and a Blue: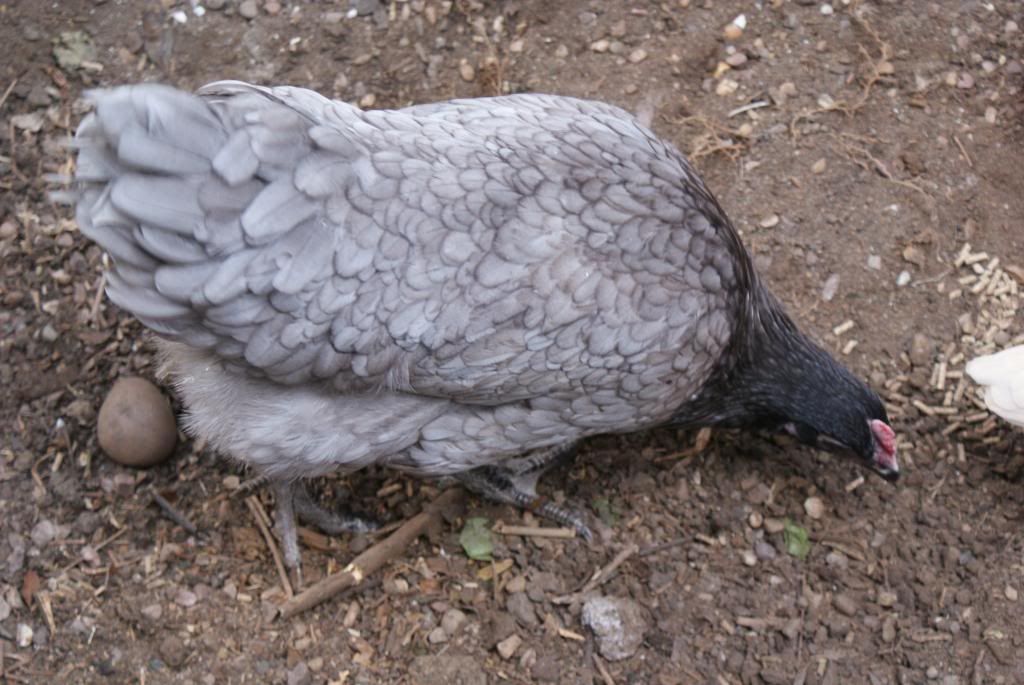 The students at work decided to name them the Spice Girls so have names Ginger, Baby, Posh and originally Sporty but I suggested Scary as the Blue is one mean hen and thinks she's the top hen but Posh took that role from the moment I released them into the run. So much so, Baby and Ginger seemed to be permanently on the pallet shelf and after a few days it was clear they were not getting access to food and water ... more building work, and they now have their own high rise run which made such a difference - their whole demeanour changed and they are a lot more confident and happy. Scary seems unable to fly up to the pallet shelf but I've watched them and despite being horrible to them, they are not so bothered by her and they choose to go to the high rise run rather than try to escape from her (I think they just prefer the view LOL)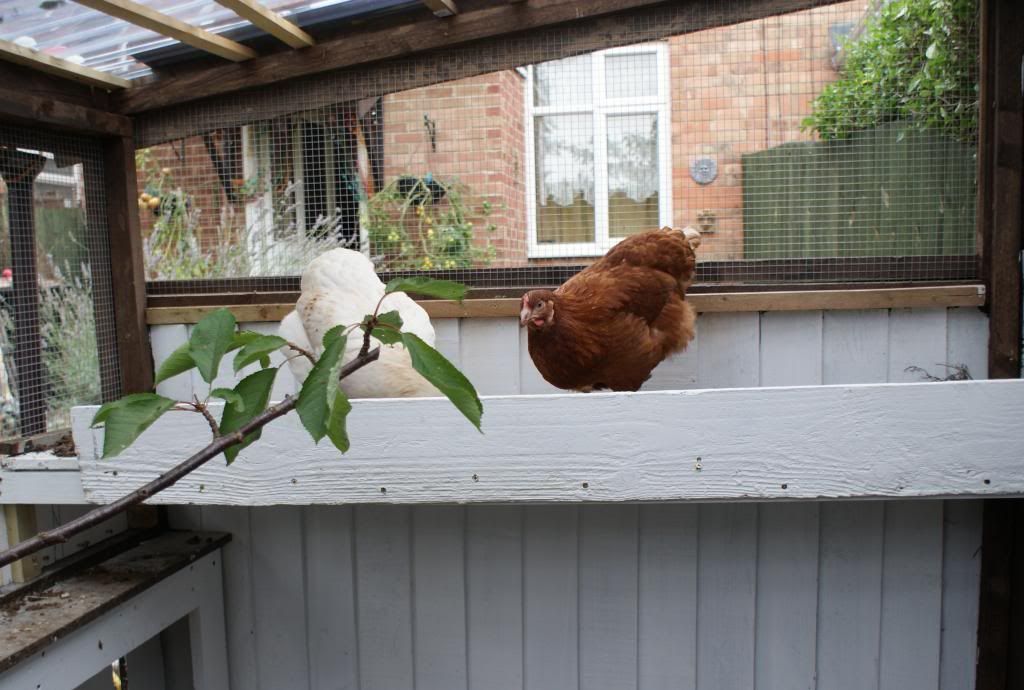 I have enjoyed watching their antics, and I never knew they had such fluffy bums LOL
At first they were all skittish round me but it didn't take Ginger and Baby long to get used to me. Posh soon followed but I think that's only because she was coming into lay, and she has an enormous appetite - I give them all an afternoon treat of mixed corn and fresh veggies, and she really loves cabbage and hoovers up the pieces (I tried hanging a cabbage up but then she decided it was hers and none of the others were allowed near it) Instead of running away when I go to the run, they all come rushing to the door now
Within days, the first egg!
And since then there have been a little present for me every day from Posh, but since Monday there have been 2 a day ... I suspected Scary was next as she looks more mature but it looks like it might actually be Ginger.
So begins the chicken adventure .....