Hello...................My name is Michael Caine....................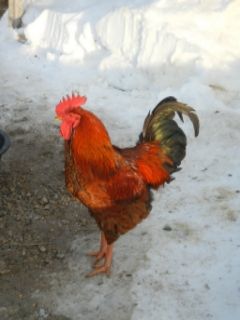 Its not really its actually Blackie but I've always wanted to say that!!!!
Anyway, I am the leading rooster here (I did type something else but The Boss censored it!) and thought it was time to join in and start a diary. I won't be able to post everyday as The Boss does not want my muddy claws constantly on his keyboard, spoilsport! But, I will do my best to sneak in when he is not around and providing
that
rabbit does not tell on me I will keep you up to date with the comings and goings here.
A little summary of my home life.........................I share my coop with five lovely feathered ladies, three youngsters (Gobby, White Girl and Peggy) who are my favorites and two broody matrons (Floppy and Scabby) who supervise them (and me but do not let them know I admitted that!), you may have seen some photos of us and our coop when The Boss eventually managed to post them on this site, he is a bit slow and still requires further training but we are getting there with him. We have total free range in the garden apart from the bit where all the good stuff is, you know, where all the lettuces, courgettes, blackberries and raspberries etc are, told you The Boss was a spoilsport but we did wreck his herb garden last year. I heard a whisper he was re planting it once again when the snow has gone, good pecking ahead for us there then!!!!
Today it was warm enough for us to get out for a wander before giving The Boss instructions to clear the snow out of the new chicken area, I say new, The Boss started it last year but his progress has been slow unlike his fast and speedy excuses for not finishing it! No choice but to crack on with it in the Spring as my baby chicks are to be hatched there, so if you have any influence over him a stern word in his ear would be appreciated.
Right introduction over, remember all you girlie chicks out there I love a party so if you are ever passing there is a space in my coop for you!!!!